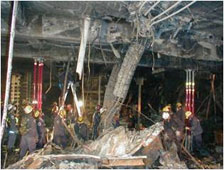 Airshore structural support struts at pentagon after 911

Airshore struts
The
Airshore Rescue Tools (ART)
are high-strength aluminum stabilization struts.  The tools can be used either pneumatically (with air) or manually depending on the particular application.
Airshore has a full line of attachment pieces allowing them to adapt to many different types of rescue scenarios.  The struts are labeled and color-coded for easy identification.  Pre-assembled kits are available for all applications and will optimize your equipment cache.
Whether supporting the walls of a collapsed trench, stabilizing a wrecked vehicle, providing structural support, or forming a system such as a tripod or a raker rail, the Airshore rescue tool is there to make your rescue as simple and efficient as possible!  With so many applications, the art maximizes the versatility of your tools.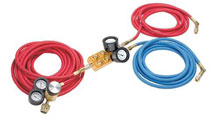 Airshore pressure regulator, dual controller and hoses for Struts

Vehicle stabilization kit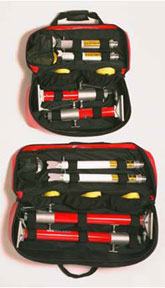 ART "Lite" vehicle stabilization kit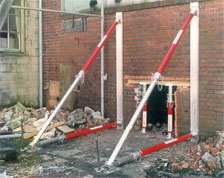 Airshore structural support with raker rails
AIRSHORE KITS
1.
Art lite vehicle stabilization
2.
Quickstruct vehicle stabilization
3.
Basic vehicle stabilization
4.
Intermediate vehicle stabilizarion
6.
Intermediate trench rescue
10.
Urban search & rescue lite

Single pneumatic Tripod
controller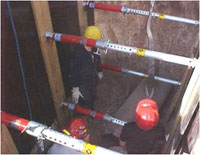 Trench support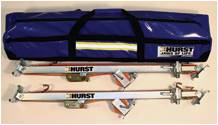 Quickstrut vehicle stabilization kit